No need to be nervous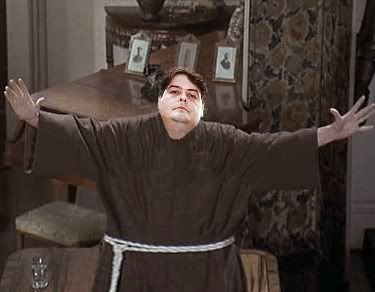 The city fathers they're trying to endorse
The reincarnation of Paul Revere's horse
But the town has no need to be nervous - Bob Dylan
In 1924, Christian occultist
Dion Fortune
purchased some property at the foot of
Glastonbury Tor
- arguably Weird Britain's weirdest place - and named it Chalice Orchard. This became the first meeting place for what became her occult fraternity
The Society of the Inner Light
, the basic workbook of which remains Fortune's 1936 text,
The Mystical Qabalah
.
A couple of weeks ago, and almost naturally at
Glastonbury
, MI5's 9/11 Truther David Shayler
publicly declared
that he was the Messiah, as well as the reincarnation of King Arthur and Leonardo da Vinci. Though unlike Jesus, who left it at the question "Who do men say that I am," Shayler couldn't
repeat himself
fast enough on British television. ("Do I sound mentally ill?") Television, of course, happily obliged.
Shayler claims he arrived at this conclusion after studying the Qabalah, seeing a crop circle that resembled a pattern he had drawn as a child, and reflecting upon a chain of psychic events that made sense of the apparent botch of his life.
Reportedly
, his study was aided by "mushrooms & a plant, can't remember their names,
something beginning with A
."
Dion Fortune is regarded by occultists today as a bit of a moralizing fuddy duddy, whose magic was not exactly Crowley's sex and drugs and rock and roll. In
Sane Occultism
, Fortune compared a magician who performs sex workings to a fisherman who employs tamed cormorants, kept hungry to catch fish, but which have rings about their necks to prevent them from swallowing. The fish are plucked from their bills and stuffed into the pockets of the "fisher of souls." "The occultist who works with sex always has his cage of human ringed cormorants," she writes. "The poor creatures do not wear very well, and have to be constantly replaced." As for attaining higher consciousness through drugs, Fortune warned that "it is one thing to unloosen the girders of the mind, and quite another to get the rivets tightened up again, and unless one is prepared to go through life rattling like a cheap motor-car it is unwise to seek this method of development, speedy and effectual though it is."
Perhaps if Fortune had been of another generation, and had the benefit of the West's newfound ethnobotany and etheogenic anthropology, she might have made exception for the place of the shaman in traditional culture. Though since she was adamant that "it is an axiom of occult science that no price may be charged for any form of occult work," it's certain she would have looked askance upon the instant karma of shamanic tourism, and self-induced higher consciousness for the price of a dose.
Something else Fortune wrote is that "an unwilling victim is a nuisance." That is, smart attackers of the psyche will exploit flaws of character to the point where the victims become complicit in their own destruction. This is a tactic as true for what Fortune would call the "black lodge" as it is of any dark actors.
Post 9/11, the first significant book I read that took me behind the scrim of mere politics was Brisard and Dasquie's
Forbidden Truth
. These days it's a work that's more liable to be dismissed as a "limited hangout" than read, since it contains no hint of controlled demolition, no mention of Building Seven, no suggestion of exotic weaponry. Its value to me was to make plain the convergent interests of parties which supposedly are forever at each others' throats, if their press releases are to believed. One example was the news, to me, that the first international arrest warrant made by a state against Osama bin Laden had been logged by Libya in 1998, stemming from the murder of
two German intelligence
agents in 1994. During this time, David Shayler headed MI5's Libya desk for counter-terrorism, which is where he learned of an MI6 plot to subcontract a Qaddafi assassination plot to the al Qaeda-affiliated
Jama al-Islamiya al-Muqatila
. (Though the February, 1996 bombing attempt failed, it managed
to kill
several of Qaddafi's bodyguards.) Shayler quit in disgust, took his information public, such as he could, and was eventually sentenced to six months for breaching the Official Secrets Act. (Significantly, al Qaeda and the Libyan jihadists are never mentioned now whenever the UK media refer to the assassination plot. It appears better that it be regarded as a straightforward MI6 "inside job" than as evidence for collusion between security agencies and bin Laden's network.)
Says the voice-over to Channel 4's Shayler report: "The path from mainstream whistleblower, to 9/11 conspiracy theorist, to now self-proclaimed Messiah could, arguably, be a wish come true for the secret services that once tried to gag him."
Ever since I read
Forbidden Truth
I've recognized the awkward implications of Shayler's whistleblowing to Western gamesmanship. But ever since I paid attention to Shayler the conspiracy theorist, I've considered him part of the problem of "9/11 Truth." And that is,
the predilection
to look for confirmation and even leadership from within the camp of state terror itself.
I don't mean that Shayler has necessarily played the spook all along. (And in fact, the more I consider the present situation, the less likely I think it.) What I
do
mean is that Shayler, like every figure who comes in from the cold, deserved to carry about with him a cloud of suspicion,
especially
within the conspiracy counterculture which so quickly embraced him as a hero and provided a bridge to a new life after he'd burned all his others. But instead, and because of his
inside
pedigree, Shayler was rewarded by becoming a much-in-demand speaker, a familiar talking head (though
perhaps confirming
the "maxim which states that any 'conspiracy theorist' who gets on telly a lot is definitely a knob"), and the voice of the 7/7 documentary
Mind the Gap
and
9/11 and the British Broadcasting Deception
.
But blowing a whistle, no matter how well, did not confer upon Shayler
special insight
into the events and affects of September 11. "The twin towers did not collapse because of planes and fire," he said last Fall. "They were brought down in a controlled demolition. The Pentagon was most likely hit by an American missile, not an aeroplane." Any insight he might have brought as an insider to covert gamesplay was effectively quashed once
New Truth
dropped the parapolitical ball and stopped talking about al Qaeda in any meaningful fashion. He still had a platform and his new identity, but his opinions were just as potentially groundless as the worst of ours.
And then Shayler
came out
as a no-planer ("the only explanation is that they were missiles surrounded by holograms made to look like planes"), and
last summer
, "for some inexplicable reason," he introduced The Protocols of the Elders of Zion to the discussion during a Q&A following a screening of
Mind the Gap
.
Remarked
one observer, "I'm loathe to cast aspersions on anyone but for a moment I thought 'add "no planes" to "Zionists own the media and are the prime movers behind everything" is this trying to sabotage this movement or aid it?' For a moment, I thought, is this what the others really think? For tis not just daft but untrue."
If that had been the end of it, that should have been the end of him. But now, as well, he's the Messiah. And perhaps perversely,
at last
I can believe he's sincere. Damaged, persecuted and harassed, perhaps - a man of sorrows and acquainted with grief, even - but also a willing victim who has nursed his martyr complex until it metastasized into a psychic fugue: not the Higher Consciousness of
We Are All One
, but the hyper-inflated ego of
I Am The One
. To "the intelligence services that once sought to gag him," he hasn't proven much of a nuisance after all.
Perhaps 9/11 Truthers who now feel victimized by Shayler ought to ask themselves how much of a nuisance they themselves have
really
been to the black lodge, and what part the "Truth" movement's own flaws played in calling forth such a catastrophically flawed spokesman.