America Ate My Brain (Part One)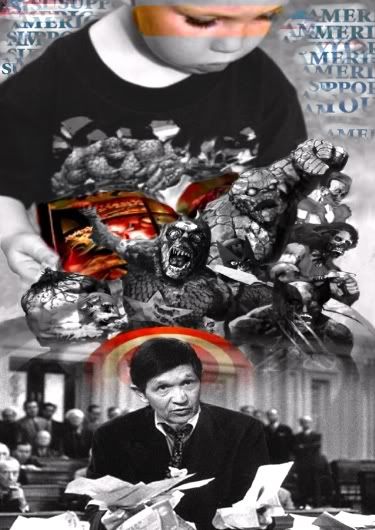 Tell me great hero, but please make it brief




Is there a hole for me to get sick in?

- Bob Dylan
Face Front, True Believers
So it's 1966, and I'm six years old, and I buy my first comic book: X-Men number 21. And I can remember 41 years later because I've long since catalogued it, sealed it with a cardboard backing and filed it by title and number in an oblong archive box.
I'd explain, to anyone who couldn't understand, or to whom I'd embarrassed myself trying to be understood, that they were "investments." But only people as foolish with money would fall for that, and they probably had comparable indefensible collections themselves. The stories were always for reading, even after I could read between them.
But I couldn't yet, in 1967, when I became a paid-up member of the
Merry Marvel Marching Society
. The flexi-disc still plays, and if I ever write a letter again I still have the stationary. I wanted to be a hero too, and so I wished I'd been born an American. I told my mother, and she never tired of reminding me.
Steve Ditko appointed my adolescence with fantasies of vigilantes and loners above the law: the Übermensch who was also everyman. I didn't know, and it wouldn't have meant anything to me if I had, that Ditko was devoted to the philosophy of Ayn Rand, which he explored and evangelized in his comic titles.
In Alan Moore's

Watchmen
, Moore took Ditko's "Mister A" - "an absolute insane fascist but done absolutely straight" - to his mad end with the character Rorschach. Ditko didn't get it. ("Oh yes - he's the one who's like Mister A, except Rorschach is insane.")
Stan Lee was always a bit seedy and very much a huckster, but he knew that he was and worked it, and to a kid raised on Silver Age comics he seemed on our side, and the comics industry seemed as disconnected from the real powers of this world as its readers. Neither was true, long before
the scandal
of his former partner in Stan Lee Enterprises, Peter Paul. He now
styles himself
a "whistleblower," and panders to the American right and its Clinton fixations, and accompanying blindspot to the bigger picture and the Clintons place within it. But by the time he'd turned 27
Paul was
the President of the Miami World Trade Center, had been employed by four major intelligence agencies and "was recruited by operatives of our government for a plan to embarrass Castro" by defrauding Cuba of millions of dollars worth of coffee. He pled guilty on a charge of conspiracy, and served time for cocaine trafficking and trying to enter Canada on a false identity. In 2000 Paul was the largest contributor to Hillary Clinton's Senatorial bid, and he threw her a Hollywood gala reputed to have cost nearly $2 million. Two days later, the
Washington Post
reported Paul's criminal past and Clinton denied even knowing him.
There's a video online
of Lee in Paul's office, shot by Paul, of the two meeting with Stanley Myatt.,
who has been variously described in the press as "a CIA assassin, a consort of Italian and Russian mafiosi, a Wall Street scam artist, a loan shark, and an informant for the FBI and the DEA
." In Paul's
memorandum of 2005
, he says he was introduced to Myatt
in 1978 at the direction of the FBI in order to obtain Paul's assistance in resolving an anti-Castro effort involving an international coffee deal for which the government through Myatt in the end induced Mr. Paul to plead guilty to one count of conspiring to send wire messages in furtherance of the scheme perpetrated by others to defraud the Cuban government. (Exhibit A). Since then, Myatt has been the root cause of Mr. Paul's entire "criminal" history from 1978 to 1983 and is responsible for his guilty pleas to three separate felonies arising out of government/Myatt sponsored anti-Castro, anti-Communist covert operations. At all times since 1978 Myatt has been enabled and encouraged by the government to abuse the authority of the FBI, ATF, DEA, Bureau of Prisons, U.S. Parole Office, and Treasury Department.
Once a Marvel reader came to political consciousness, it didn't take a decoder ring to know that Lee's own leaned grievously to the right; far enough to make a costumed hero of a military industrialist, and to make his costume iron, as though his enfleshment was a weakness to be overcome, and then give him a sidekick called "War Machine." In the movie adaptation of Iron Man
to be released
next Spring, his origin has been updated to include a kidnapping by jihadists. Two US Air Force F-22 Raptors and a Global Hawk make supporting appearances, which "shows they really went out of their way for us"; or so director John Favreau tells it on this
Youtube posting
of the Air Force News Agency.
Eventually, the Nick Fury-wannabes of this universe saw the upside in recruiting Lee's original, and making the comic universe another front in the war on adolescent imagination. As though admitted an arrested development to their own fighting force, in 2005 the Department of Defense
partnered with
Marvel to launch a custom imprint for troops deployed to the Middle East. The event at the Pentagon "coincided with 'Take Our Daughters and Sons to Work Day,' so plenty of youngsters were on hand to get the first copies of the special comics":
"That's really cool. They said that they're trying to help all the people [in the military]," said 11-year-old Kaitlin Lee, who was visiting the Pentagon with her younger brother and sister and their soldier dad. Kaitlin explained that it's good for the superheroes to show support for the troops because some kids want to be like their favorite superheroes.

She used her 6-year-old brother, Josh - who was holding tight to his own "Spidey" - as an example. "Like Josh here," she said. "He wants to be like Spiderman and [Spiderman] wants to help out [the troops]. So it's just kind of showing that we would like to help out too and we want to show [the troops] that we care."
The bracketed additions "for sense" are the Army's own.
The fifth issue, released last month to soldiers serving with Centcom,
depicts
Captain America striking an iconic pose with Avengers assembling behind him, overshadowed by and armed and masked enemy. And at a glance, through the menacing figure's eye slits, he's obviously depicted with a complexion by which Centcom identifies the enemy.
Marvel's privileged relationship with the Pentagon, as tacit incubator and explicit feedlot for its slaughterhouse, makes its latest phenomenal success of particular grim interest.
And in the second part, I'll get to the point.