Empire on the Verge of a Nervous Breakdown I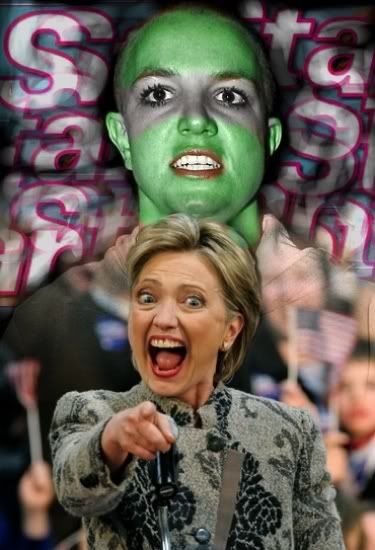 People are crazy and times are strange

- Bob Dylan

People are crazy
I've been thinking a lot this week about last week's
leaked internal memo
from Associated Press. Frank Baker, AP's LA assistant bureau chief, issued the directive that "Now and for the foreseeable future, virtually everything involving Britney is a big deal." I've been thinking how right and how proper this is.
What
should
US cable news be doing, other than leading the hour with live updates from Britney Spears' custody hearing? Put another way, what does US cable news do better that it should be doing instead? The answer, my answer, is nothing. It's perfectly tuned by the lords of the manor to service the land of genetically modified bread and circuses. What has it ever demonstrated to justify a higher expectation?
But the failed expectations are not the media's alone. Most responsibility rests with the broken subjects of America's broken media. Does Clinton versus Obama really merit more attention and sober analysis than Spears versus Federline? I don't see why it should. One pair speak of "change," and the other of
mood swings
, but it's the same, leveled spectacle.
Did the Clinton team hack the New Hampshire vote?
Bradblog
makes its usual strong case for electoral fraud, but I'm finding it hard to get my indignant mojo working. Because here's the thing: even when the system works as advertised it contemptuously defrauds and disenfranchises citizens who take their politics like detached spectators. Obama and Clinton are two contenders in a fight club of closed ranks and consensus brutality with interchangeable corners. The outcome of this contest for advancement upon our lives - American lives and everyone else with a seat at the arena - will mean just as much as who wins the Super Bowl or the Oscar, should we have any emotional investment in the outcome of those contests. Because the only change to be registered will be how we
feel
about it. That's supposed to be enough, and it's been that way long enough that for many, it is.
Most everyone loves a good breakdown. At least ever since breakdowns have become public spectacle, and we can revel in celebrities' madness at physical and emotional distance. But even if we're so emotionally removed from the circus that we don't care whether the fallen idol is a danger to herself, we still care should she become a harm to others. So we're relieved when Britney loses visitation rights, so her crazy train can keep chugging along without running over her children. Unfortunately, there's no court that can slap the wrists America's already slashed, whose own breakdown would be far more entertaining with a restraining order.
[MORE TO COME]